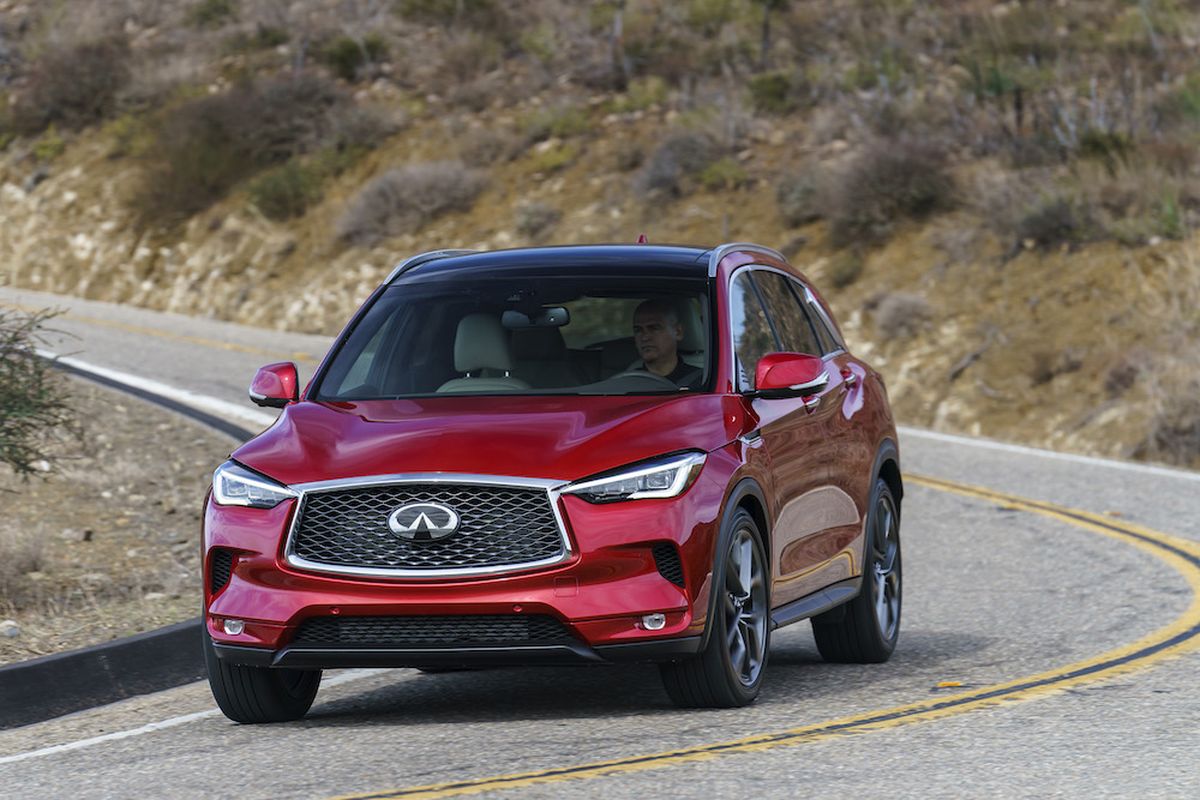 The all-new Infiniti QX50 reinvents the internal combustion engine
The all-new 2019 Infiniti QX50 crossover takes a deep dive into new technologies.
Its turbocharged four-cylinder engine is a revolutionary effort that could change the future of the internal combustion engine.
As is often the case, however, it's not high-tech owners who will appreciate the most, but high touch.
Because, for all the promise of its variable-compression turbocharged engine — the first of its kind in a production vehicle — the most endearing aspects of the QX50 are the traditional ones: comfort, utility and efficiency.
Beautiful inside and out
The QX50 is a midsize luxury crossover available in three trim levels: Pure ($37,545), Luxury ($40,395) and Essential ($44,345).
It's a beautiful piece, filled with all the bulges, character lines and contours that define a modern crossover. Even better is the cabin, where designers mix and match premium materials, distinctive color palettes and perfect ergonomics.


All trims feature dual-zone automatic climate control, keyless start and entry, leatherette upholstery (Essential is genuine leather), power front seats, hands-free tailgate, dual-screen infotainment system, Bluetooth, four USB ports and a six-speaker audio system with satellite radio.
LED headlights, forward collision warning and auto emergency braking are standard.
Taller, wider and more spacious
Yet many of the most desirable features – including premium audio, most driver-assist features and even the tow package – are only available as an option and only on the Essential,
In our top-tier Essential-trim test, a rich mix of materials — including exposed-grain silver wood and two rows of silver and brown stitching on the door sills and leather-trimmed seats — produced a decidedly upscale vibe. of range.
The new QX50 is a bit shorter than its first-generation predecessor, but it's wider and taller, allowing room for more rear legroom and cargo capacity. The second row seats slide, recline and fold to increase cargo space.
Ground clearance increases 2 inches to a generous 8.6 inches, though the QX50 isn't equipped to venture further off-road than a Forest Service road.
Getting in and out of the cabin is easy and the seats are supportive and comfortable, although long-legged passengers may find the lower cushions too short.
Well-mannered, modestly engaging
Infiniti's two-screen infotainment system is a hodgepodge of control options, confusing menus and mismatched fonts. Important functions, such as the heated steering wheel and personalized driving mode settings, can only be accessed through the overly complicated menu system.
Neither Apple CarPlay nor Android Auto are available.
The QX50 is based on a new front-wheel drive sedan platform, with all-wheel drive available. Its suspension is softer than that of its predecessor, whose firm and sporty configuration could become jittery and unstable.
The '19 QX50 is well mannered and modestly engaging. Less a corner carver than a boulevardier, it dispatches all but the worst potholes and broken surfaces without a fuss. The ride remains calm even on undulating and choppy surfaces.
Its lightly weighted steering system responds too slowly to input. While it firms up in the driver-selectable Dynamic and Dynamic+ steering modes, it offers little feel or feedback.
At speed, the QX50 is stable and quiet, with little intrusion of wind and road noise into the cabin.
The heart of the company
The heart of this endeavor is a 268-hp 2.0-liter turbocharged four-cylinder engine that solves a long-standing conundrum: how to build an internal combustion engine whose compression ratios change with conditions.
Low compression is best suited for producing power; high compression is desirable for its efficiency at constant speed.
Infiniti's radical new design inserts computer-controlled linkages between the crankshaft and connecting rods, permanently altering piston stroke. Compression ratios range from 8:1 to 14:1.
Sounds good on paper, but the actual results fall short of expectations.
The QX50 reaches 100 km/h in 6.4 seconds, the category average. EPA-estimated mileage is 26 mpg combined (24 city/30 highway), but that sounds optimistic.
The engine buzzes under acceleration, and the continuously variable transmission it's mated to lets the engine linger too long at high revs, causing the familiar CVT drone.
Expect Infiniti to evolve its new technology. Meanwhile, the more tangible rewards of the QX50 will win out.
Questions or comments? Contact Don at [email protected]
2019 Infiniti QX50 Essential AWD
Base vehicle price: $37,545
Trim level base price: $45,150
Tested: $59,085 (includes destination and handling)
Options: Included highlights quilted semi-aniline leather upholstery; cabin highlights in blue ultra-suede; adaptive LED headlights; natural maple interior trim; 16-speaker Bose audio; ProAssist and ProActive safety and driver assistance suites (adaptive cruise control, rear cross traffic alert with emergency braking, blind spot warning, automatic high beams, head-up display, more); illuminated skid plates; welcome lighting.
Towing capacity: 3,000 pounds (Essential only)
EPA rating: 26 combined/24 city/30 highway
Premium fuel required
---
---